We're thrilled to announce that we have completed our $3 Million funding goal for our Raise the Roof Capital Campaign! Huge THANKS to all who contributed through memberships and generous donations to help us purchase the property and undertake construction of a new state-of-the art animal shelter for Newport Beach. Construction is nearly complete and the City of Newport Beach accepted our gift of the new shelter on November 29, 2022.

You can follow our construction progress through photos on the New Shelter Design page. We expect to move the animals and shelter operations staff into their brand new home in January 2023.
DONOR WALL
In recognition of the generosity of our top supporters, all donors of $5,000 or more to the FONBAS Raise the Roof Capital Campaign from April 1, 2017, to October 1, 2022, will be listed on the Donor Wall at the new Newport Beach Animal Shelter.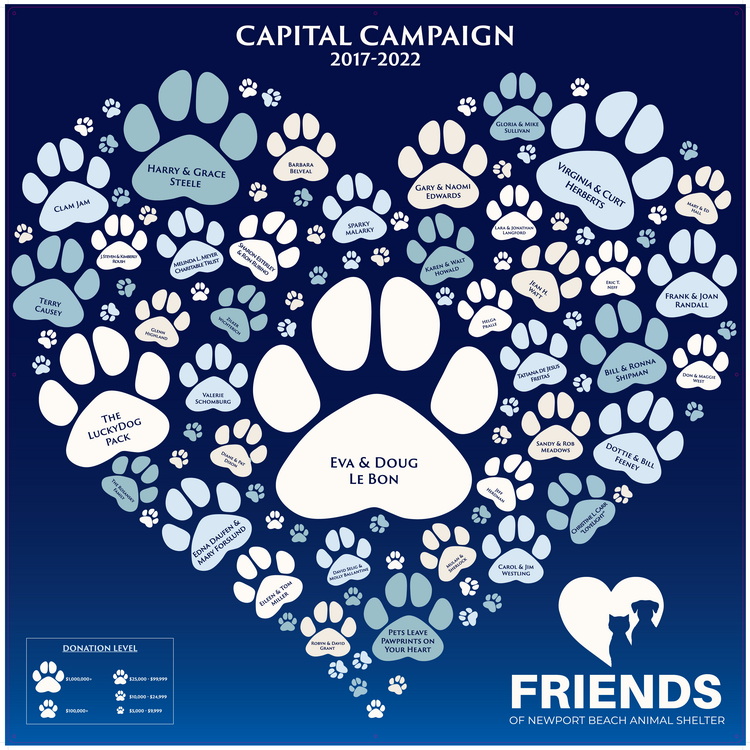 Click here to see a larger image
---
DONATIONS STILL NEEDED
Now that our new shelter is nearly complete, funds are still needed to complete the finishing touches of the new facility and to support the ongoing needs for dental and medical care, grooming and training that help make pets more adoptable.

Our work is never done as long as lost, stray or abandoned pets need shelter. Your Membership or Donation in any amount will go directly to provide specialized animal care and adoption services for the myriad of pets who come through our doors.
THANK YOU for your support in any amount to give the lost, stray or abandoned pets of Newport Beach a safe and loving shelter until they can be returned to their families or placed in a forever home!
If you have any questions, please send us an Email. info@fonbas.org
---
MAKE A GIFT
Your gifts make sure every animal gets a chance to return home or find a new forever home. When you support the Newport Beach Animal Shelter, you are helping to provide dogs, cats, and critters with shelter, food, medical care, and human socialization until we can find them homes of their own. Thanks to you, we can provide for hundreds of lost or homeless pets each year.

As a nonprofit organization, all gifts are tax-deductible as allowed by law.

Our tax ID is # 82-1830129. We are a 501 (c)(3) organization and our policy is to never sell, or trade our donor personal information to any other entity.

Check or money order preferred to avoid us having to pay processing fees.

Checks should be made out to: Friends of Newport Beach Animal Shelter

Send to PO Box 10791, Newport Beach, 92658
How did you hear about us?