Saving lives one adoption at a time...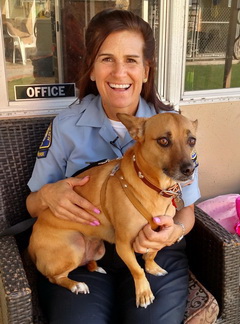 Valerie Schomburg
Newport Beach Police Department
Animal Control Supervisor.
(949) 718-3454
aco@nbpd.org
Shelter Location & Hours
Address: 20302 Riverside Drive, Newport Beach, CA 92660
Open 6 days a week 11:00AM to 4:00PM
Closed Mondays
The Newport Beach Animal Shelter is located in a building operated by the City of Newport Beach and is generously supported by the community.
The Shelter has the requisite staff, amenities and volunteers to insure that the animals experience a comfortable, healthy environment while at the Shelter and are given the maximum opportunity for placement in a new situation.
Contact NBPD Animal Control for info on how to adopt an animal
---