BREAKING GROUND!
November news at your Animal Shelter
We are happy to announce that we have almost completed the funding goal for the Raise the Roof building needs. We have purchased a permanent site on the same street as the existing shelter and now have a remaining $364,000 of the total $3,000,000 to raise and complete the new state-of-the are animal shelter for Newport Beach.
We have $364,000 to go.
Last month we asked you to help in raising $500,000 by March 2022, and $136,000 of that has been raised from our wonderfully supportive community so far.
What can you do to help?
First, if you haven't already done so please become a member or renew your membership at the current level or even higher – from Puppy/Kitty $25, Whiskers $50, Tails $100, to Fat Cat at $500 or Big Dog at $1,000.
Second, if you haven't already done so and you want to be listed on our Donor Wall as a special Raise the Roof contributor, please consider an additional donation.
Third, please invite your pet-loving family and friends to become members or "Raise the Roof" donors to help our new shelter become a first-rate facility for Newport's lost, stray, or relinquished pets.
If you need to be reminded of your earlier donations, please contact us at info@FONBAS.org. Thank you so much for all the help you have given in the past years and, in any case, get ready for the big celebration and opening or the new shelter in 2022.

Jon Langford
President
You are pawsitively the best!
---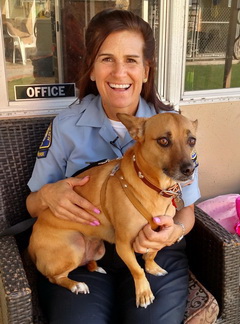 Valerie Schomburg
Newport Beach Police Department
Animal Control Supervisor.
(949) 718-3454
aco@nbpd.org
Shelter Location & Hours
Address: 20302 Riverside Drive, Newport Beach, CA 92660
Open 6 days a week 11:00AM to 4:00PM
In an effort to protect the health of our community members and staff, following guidance form state and local health officials, the Newport Beach Animal Shelter is currently closed to the public. Certain time-sensitive services, such as redemption of animals by their owners, can be provided by appointment only. The city is continuously reevaluating the COVID-19 risk and our ability to provide other services, such as adoption of animals in our care, may depend on the most recent guidance received. Please call the shelter at (949)718-3454 to inquire about making an appointment for services. Community members wishing to donate to the shelter may leave the items outside of the shelter gate for collection. Thank you for your support and understanding.
The Newport Beach Animal Shelter is located in a building operated by the City of Newport Beach and is generously supported by the community.
The Shelter has the requisite staff, amenities and volunteers to ensure that the animals experience a comfortable, healthy environment while at the Shelter and are given the maximum opportunity for placement in a new situation.
Contact NBPD Animal Control for info on how to adopt an animal
---