GOOD NEWS FOR NEWPORT BEACH ANIMAL SHELTER ANIMALS
Friends of Newport Beach Animal Shelter (FONBAS) Board members are happy to announce the acquisition of a kennel property on Riverside Drive. The new property will be renovated to a state-of-the-art standard and ultimately be donated to the City for use as a permanent animal shelter. The property is an existing kennel very close to the leased site the City is using today.
FONBAS conducted a three-year campaign to raise capital for this acquisition and continues to raise funds for the renovation of the new site. "We are extremely thankful for the generous support of the community and several major benefactors" said President Tim Stoaks. Evelyn Hart, FONBAS Board member and former Newport Beach Mayor added that, "Like the Friends of Oasis and Friends of the Library, our mission is to build on the already excellent work the City does to help each animal put its best paw forward."
FONBAS is dedicated to serving the needs of animals to restore their well-being and reunite them with their owners or find new forever homes. Though the pandemic has made it difficult to show off the new property, our Board's Facilities Committee has started planning for the next exciting phase, restoration of the property to provide the highest quality spaces for the animals to live, thrive and be available for adoption by new owners.
Please follow this story on our website and watch for our emailed progress reports if you are a member. We want to thank all of our members and donors for helping us complete the first phase of this project. Phase 2 will begin immediately with plans and fundraising for the renovation of the site. You can help by becoming a Founding Member and our next announcement will let everyone know how to help with specific donations for the new building.
Tim Stoaks, President

---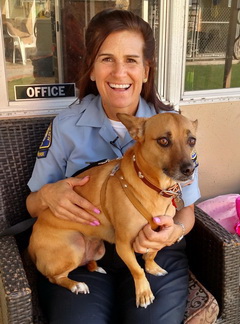 Valerie Schomburg
Newport Beach Police Department
Animal Control Supervisor.
(949) 718-3454
aco@nbpd.org
Shelter Location & Hours
Address: 20302 Riverside Drive, Newport Beach, CA 92660
Open 6 days a week 11:00AM to 4:00PM
Closed Mondays
The Newport Beach Animal Shelter is located in a building operated by the City of Newport Beach and is generously supported by the community.
The Shelter has the requisite staff, amenities and volunteers to insure that the animals experience a comfortable, healthy environment while at the Shelter and are given the maximum opportunity for placement in a new situation.
Contact NBPD Animal Control for info on how to adopt an animal
---