THANKS - YOU'VE HELPED US RAISE THE ROOF!
Dear Friends of Newport Beach Animal Shelter,

Congratulations! We have reached our goal to Raise the Roof! Thank you ALL so much for your donations to help us build a new state-of-the-art Animal Shelter for Newport Beach.

We have now raised over $2,500,000 in private donations, purchased a property on Riverside Drive in Newport Beach, developed a design concept, submitted plans to the City for approval, and have enough funds to build our dream.

Four major donors have been especially generous. Doug and Eva Le Bon launched the campaign with a matching grant, met by the Audrey Steele Burnand family who provided enough support to purchase the property.
Two anonymous major donors, along with gifts of all sizes from many other members, helped meet an additional challenge from the Le Bons to send the "Raise the Roof" thermometer red line over the top for design and construction.

We are very grateful for the community's support for this important and long-awaited facility. We expect to break ground later this spring and be ready to move the animals to the new shelter early in 2022 and will be back to normal for visitors. Even during the pandemic our membership has grown and will continue to provide support for FONBAS to thrive, make future improvements to the Shelter, and provide ongoing funds for special needs and treatment of the animals in our community's care.

From the bottom of our hearts, we THANK YOU for your kindness and generosity.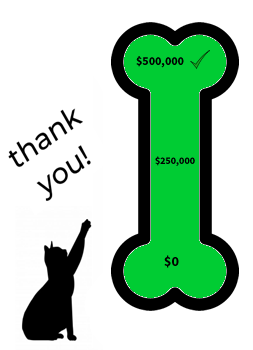 Donors are encouraged to continue their support with tax-deductible memberships and donations for ongoing funding needs and special treatment of animals in our community's care.
Donate online or write a check
Make checks payable to
Friends of Newport Beach Animal Shelter
and mail to
PO Box 10791
Newport Beach, CA 92658

If you have any questions, please send us an Email. info@fonbas.org

---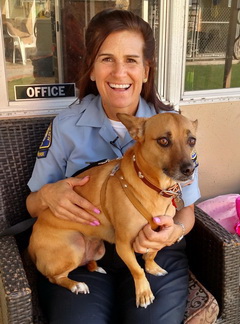 Valerie Schomburg
Newport Beach Police Department
Animal Control Supervisor.
(949) 718-3454
aco@nbpd.org
Shelter Location & Hours
Address: 20302 Riverside Drive, Newport Beach, CA 92660
Open 6 days a week 11:00AM to 4:00PM
In an effort to protect the health of our community members and staff, following guidance form state and local health officials, the Newport Beach Animal Shelter is currently closed to the public. Certain time-sensitive services, such as redemption of animals by their owners, can be provided by appointment only. The city is continuously reevaluating the COVID-19 risk and our ability to provide other services, such as adoption of animals in our care, may depend on the most recent guidance received. Please call the shelter at (949)718-3454 to inquire about making an appointment for services. Community members wishing to donate to the shelter may leave the items outside of the shelter gate for collection. Thank you for your support and understanding.
The Newport Beach Animal Shelter is located in a building operated by the City of Newport Beach and is generously supported by the community.
The Shelter has the requisite staff, amenities and volunteers to ensure that the animals experience a comfortable, healthy environment while at the Shelter and are given the maximum opportunity for placement in a new situation.
Contact NBPD Animal Control for info on how to adopt an animal
---