Saving lives one adoption at a time...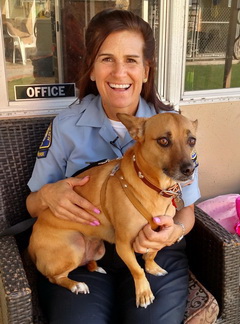 Valerie Schomburg
Newport Beach Police Department
Animal Control Supervisor.
(949) 718-3454
aco@nbpd.org
Shelter Location & Hours
Address: 20302 Riverside Drive, Newport Beach, CA 92660
Open 7 days a week 11:00 AM to 2:00 PM by appointment only
Animal Control Services and the Animal Shelter are managed by the Newport Beach Police Department in a leased residential/kennel facility on Riverside Drive in the Santa Ana Heights area of Newport Beach. It is generously supported by the community. This facility has served the City since November 2015.
The Shelter has the requisite staff, amenities, and volunteers to ensure that the animals experience a comfortable, healthy environment while at the Shelter and are given the maximum opportunity for return to their owners or placement in a new situation. Animals are placed in the shelter as lost, abandoned, strayed, owner turn-ins, or emergency placement due to owner accident, illness, incarceration, or natural disaster. Many are successfully returned to their own homes, while others are placed in forever homes through adoption. Animal Control Officers are assisted by volunteers in the care and socialization of animals in residence.
All manner of domestic animals may find their way to the shelter, including dogs, cats, rabbits, tortoises, guinea pigs, reptiles and more. Large animals, birds and wildlife are placed with other agencies that specialize in their care.
The Animal Control Unit provides the following services to the Newport Beach community:
Patrol the beaches, parks, and neighborhoods to enforce local, state, and federal laws
Respond to citizen complaints and inquiries
Transport injured animals to care facilities
Pick up stray and abandoned animals
Return stray animals to owners whenever possible
Investigate and report any animal bites
Investigate and prepare cases for court
Conduct permit inspections for private and commercial animal establishments
Provide city-sponsored aid and mutual aid to other agencies
Provide assistance to police officers when an animal is involved
rovide wildlife management advice and coyote information to the public