The Dog Days of Summer 2017
The Dog Days of Summer 2017
The Dog Days of Summer event June 20th 2017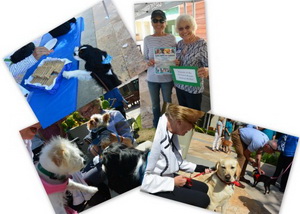 This was the first time dogs have been allowed at OASIS Senior Center in Newport Beach.
And its genesis was a desire to support the Newport Beach Animal Shelter.
There were little dogs, big dogs and everything in between, and all behaved impeccably. There were lots of dog biscuits available, and those taking a treat for their pooch were encouraged to make a donation to the shelter. Over $100 was raised.
Founding members of FONBAS Nancy Gardner and Evelyn Hart helped organize the event introducing this new non-profit to folks at OASIS Senior Center